VAM dB insurance CRM has all the tools an insurance agent needs to increase sales and improve customer service. Agency tools to track agent's sales and improve office workflows. VAM dB was designed for insurance agents so you don't need to reinvent the wheel, it is completely customizable to meet any unique needs you have quickly and inexpensively.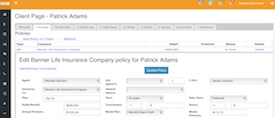 Insurance Lead & Client Management
Easy to use crm stores all leads and clients, tracking them throughout the sales process. Easily import and export data, have leads from your website feed directly into the crm, or if you purchase leads from an online lead vendor we have many integrated so those leads can go directly into your crm as well. VAM dB is completely customizable, we can easily add or change any field necessary to meet your needs. Learn more.
Integrated Phone & Text Messaging
You can purchase new phone numbers through VAM dB and use them to make and receive calls as well as send and receive text messages. Calls are forwarded to an existing number and all calls and texts are recorded in VAM dB and the client record so you have a complete view of all communications with the client. Learn more.
Insurance Sales Tracking
You can track each lead source through the sales process. Individual policy screens for different types of insurance and date fields for the key milestones allows you to track all policies from the initial request through the final sale. Easily find where policies are at in the process and make sure nothing slips through the cracks. Learn more.
Extensive Reports for Insurance Agents
Over 100 reports are available to track sales, compare lead sources, agents, insurance companies and more. A variety of summary and detailed reports as well as graphs to view data in different ways. Profit based reports, premium, percentage, production and more. Plus we can customize reports based on your needs as well as automate delivery of reports if needed. Learn more.
Paramed Exams
Order exams through VAM dB and get status back directly into the client record. Images of the completed exams are sent back and stored in the client record and the agent assigned to the case is notified. Orders exams through APPS and Exam One / Superior Mobile Medics.
Document Storage
Stores applications from the forms library with client data merged. Images received from paramed companies. Upload all other client documents becoming a paperless office. Easily access all files from anywhere. You can also upload commonly used files you send in emails so they are stored once and you can use as often as needed. Learn more.
Automated Emails / Drip Marketing
Never write standard emails again, send automated emails (auto responders or drip marketing) to leads and clients at times you determine; sales, marketing, follow ups, birthday, policy reviews and more. Save time and stay in better contact with your leads and clients, even those you didn't buy before! Learn more.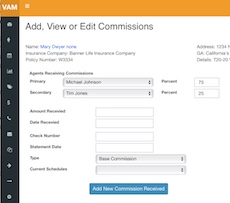 Commission Tracking
Complete insurance commission tracking. Enter each payment as received, view past due and projected reports. Setup payment schedules and renewals so you can see what is coming and make sure no check is ever lost. Learn more.
Agent Tracking, Licensing & Appointments
Manage all agents, view comparative reports. Enter and track all appointments and licenses across all lines of insurance. Learn more.
Appointment Reminders Life Insurance CRM Free CRM for Small Business Best Insurance CRM